Warhawg Tactical specializes in pig hunting, that's all we do!
Night Vision
Most hunters pursue feral hogs in the daytime, the added pressure from hunting as well as their preference for low light, has made them predominately nocturnal. To be truly effective you need specialized and costly equipment to pursue them in almost total dark. We use the latest in night vision technology to equal the playing field. These units are the absolute best equipment available.

Using helmet mounted night vision goggles like the GEN 3 PVS-7 (Military issue for troops) and the Gen 4 ANVS-9 (which are issued to military pilots for night aviation), and our specialized hunting vehicles we can move unimpeded at night. Navigate the huge farms and ranches to locate and identify feral pigs and their movements would be nearly impossible to do without disturbing the swine. After the pigs have been spotted we discuss a strategy to stalk them and remove them. The goggles make moving in broken or rough country easy on foot and allow us to close the distances, sometimes to within feet of the pigs. After the pigs have been located and we are set up, the remainder of our gear comes into play.

Using custom made Seekins precision AR-15 rifles chambered exclusively in .300 Blackout and fitted with Gen 3 night vision scopes or thermal optics, we move in and eradicate them. These quality optics are the best available on the market and some of them are the same ones used by our frontline troops and dedicated marksmen around the world. The right gear and preparation, helps us succeed.
Thermal Imaging
In addition to the best in night vision equipment, we have equipped some of our rifles with thermal imaging scopes. More commonly known as Forward Looking Infra-Red (FLIR), these devices detect body heat. No matter how dark the night is, whether it's foggy or not, the hogs are plainly visible in the thermal scopes.
Weapons
The weapon we use are custom built AR-15's by seeking precision. These are very similar to the standard issue M4 rifles, but are built to our specs and chambered in .300 Blackout. The blackout is an excellent choice for engaging pigs at moderate distance. Ballistically similar to the 7.62x39 AK round, the extra weight and downrange punch make it extremely effective on these night time raiders.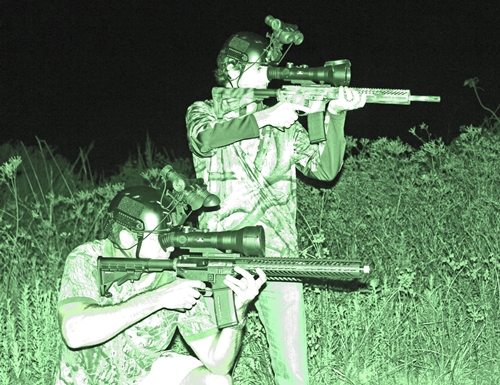 To book your hunt please contact us at

info@warhawg.com

281-814-2398

www.WARHAWG.com